Parent Council

April

24th, 7pm
Mardi Gras Assembly

April

27th, AM

Kindergarten Orientation (for new students)

May 1st, 3:30pm - 4:30pm

TDSB Spring Festival Concert at Massey Hall
May 4th
Junior Concert
May 11th, 9am
Dance Share (Grades 4-6)
May 19th
EQAO (for Grades 3 & 6)
May 24th - June 1st (please refrain from
booking appointments during this window)
Garden Fete
May 27th
Grade 6 Graduation Ceremony
June 15th, 1pm
Kindergarten Celebration
June 23rd (New date!)
ON MAY 27TH, LET'S CELEBRATE AS GARDEN FÊTE TURNS 100!

Please save the date for this milestone opportunity as our community comes together to honour another great year at Brown School.

Stay tuned for more information through:
INTERNATIONAL DAY OF PINK
Our students wore their pink loud and proud to remember the International Day of Pink and to stand up against bullying. Way to go

Panthers

!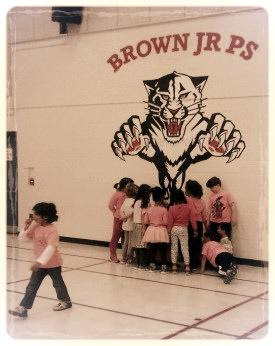 PUBLIC MEETING - PROGRAM AREA REVIEW
The presentation from the public meeting has been posted online:


2017 - Brown Junior Public School and Deer Park Junior and Senior Public School > Meeting(s) - Community Engagement > Public Meeting - Presentation -

April

3, 2017
REDUCING ANXIETY IN YOUR CHILDREN
Please see the attachment regarding an amazing information session for parents being offered on Monday, May 8th and held at Brown. Daycare is being provided for children.
COMMUNICATIONS CO-CHAIR NEEDED
Join a fun and dynamic team of parents in helping get the "news out"!
We are looking for someone to join our
communications
team.
The team
works in tandem
to coordinate with other
committees
and administration to send out email blasts and the weekly
Panther
Press
.
Technology background necessary. Ideally an active volunteer in Brown Parent Council and available for Parent Council meetings. Training is provided.
KISS AND RIDE
Please keep the following in mind during morning drop-off:
This is a gentle reminder that
Kiss
& Ride is a drop off zone, on Poplar Plains Road, for students grades 1-6 only. Kindergarten children must be walked to their classrooms.
This program is staffed completely by Brown parent volunteers, from 8:25-8:40am.
A few reminders for all parents:
There is no parking in the designated

Kiss

& Ride drop off area, or in the school bus zone between 8:25am and 8:40am for ANY reason.
When using

Kiss

& Ride, drivers must stay in the vehicle; volunteers will open the doors for your child(ren) on the passenger side of the car.
If you must enter the schoolyard or your child is not able to walk in alone you need to park on one of the side streets where parking is permitted.
Parking in the

Kiss

'n'Ride zone is NOT permitted.
For safety reasons, the Avenue Road Driveway is only to be used by TDSB Facilities staff, and Brown Administration.
Please note that the parking lot off Poplar Plains is for Brown School Staff only.
Our program relies on volunteers. Please be courteous with our

Kiss

& Ride volunteers!
Morning Parking is available in the neighbourhood in these areas:
10 minutes parking on Lynwood between Avenue Rd. and Poplar Plains
on Warren Road
VERY LIMITED parking on Poplar Plains near Lynwood
on Balmoral Ave East and West of Poplar Plains, and East of Avenue Road
On Clarendon Avenue.